Welcome to the Boys & Men's Fastpitch Information Page
---
2022 Men's Fastpitch Tournaments
Vancouver BC
Connaught Park Ice Breaker Contact Tom Yipp 604-290-6986, tom_yipp@telus.net
April 29-1
Wheatsheaf Icebreaker
Nanaimo BC
(Wheatsheaf Ball Fields)
Nanaimo, BC
Contact:
Blake Hunter
(778) 2684088
May 20-23
Kelowna BC
ISC Qualifier May Days Tournament (King Stadium)
Contact: Rich Haldane 250 212-7665
Teams competing:
PG Big Guy Lake, Irma Tigers, Grand Pirate Pirates, Sooke Loggers
Kelowna BC
Andre Sr Blanleil Memorial Tournament (King Stadium)
8 Teams, Entry Fee
Contact: Kyle Blanleil (250) 215-2345
July 1-3
Prince George BC
John Cho Cup (Spruce City Stadium)
Sheldon Bjorklund
(250)552-6785
nativesportspg@gmail.com
July 8-10
Kelowna
Masters 40+ Provincials (King Stadium)
Richard Haldane (250) 212-7665
Prince George BC
Native Canadian Championships
(Spruce City Stadium)
Aug 11-14
Abbotsford BC
Masters 40+ Men's & Women's Western Canadian Championships
(Exhibition Parks)
*you must play in the Provincials to be eligible
Aug 26-28
White Rock BC
C & D Men's Provincial Championships
(Softball City)
Contact Softball BC
Sept 9-11
Kelowna BC
Masters 55+ Provincial Championships
(King Stadium)
Richard Haldane (250) 212-7665
---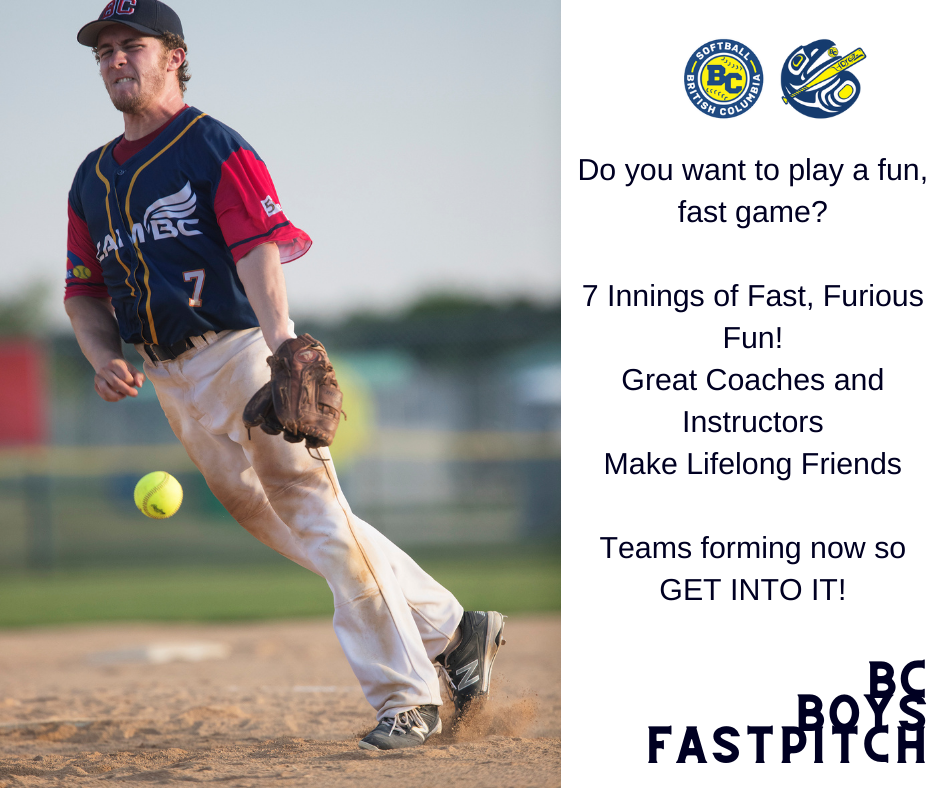 Contact Softball BC at admin@softball.bc.ca for registration details and contacts in your area!
---
Social Media Graphics for Association Use
---
On behalf of myself and Softball BC, I would like to thank everyone who has been instrumental in rebuilding the boy's/men's game. It was a true collaboration and we have seen an astronomical jump in the number of teams who are participating.
If you're new around here, you should know that we have made the membership more accessible. Since our efforts began, we have seen a significant increase in men's teams coming back to Softball BC. It is our hope that creating busier ball diamonds will raise awareness about the sport and show more youth that softball is a game that is not only safe and fun, but one that is fast, strategic and can be played for a lifetime.
The men and boys are a massive part of our game and it is important that they are part of conversations in moving this organization forward. Let's continue to collaborate and celebrate this amazing game so that the up and coming generations will enjoy it just as much as we have.
If you have any questions, please reach out to me! I would love to hear from you.
All good things,
Terri Boizard
Men's and Women's Director, Softball BC
306-640-2501
---
2022 Softball BC Men's Provincial Championship Information
Men's Dates and Locations
Boy's Fastpitch Dates and Locations
| | | | | |
| --- | --- | --- | --- | --- |
| Event | Date | Location | Contact | Register or Other Information |
| U13 Boys | TBA | TBA | | |
| U15 Boys | TBA | TBA | | |
| U17 Boys | TBA | TBA | | |
| U19 Men | TBA | TBA | | |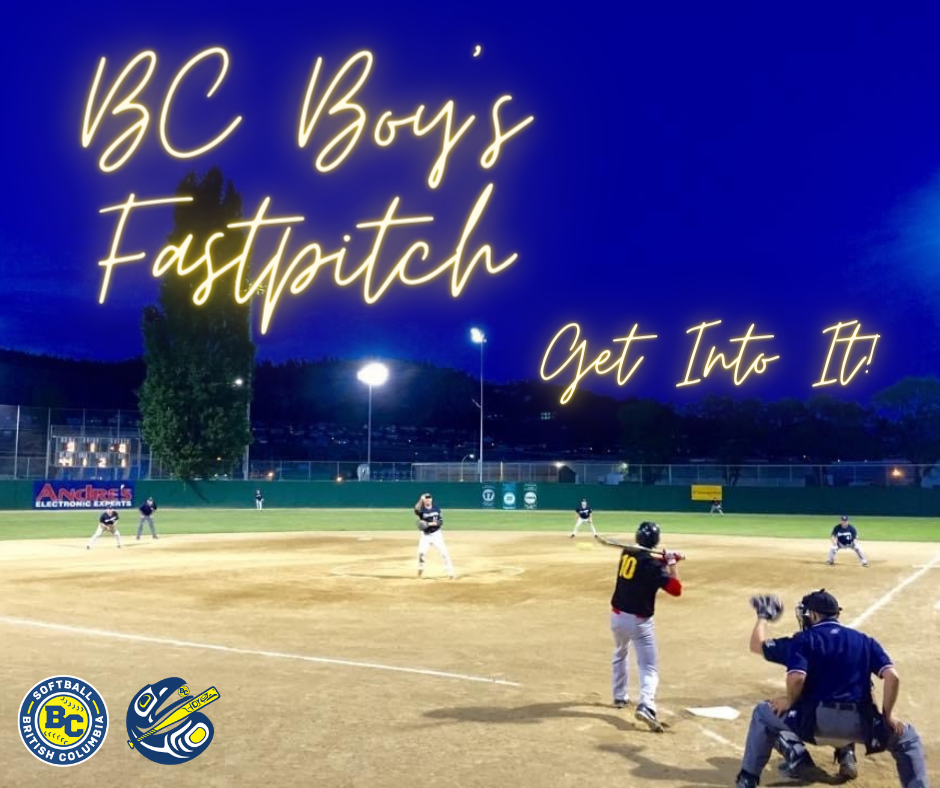 ---
Find us on Social Media
Facebook: @SoftballBritishColumbia https://www.facebook.com/SoftballBritishColumbia/?ref=page_internal
Instagram: softball_b_c
Twitter: https://twitter.com/Softballbc