Safe Sport: Prevention
---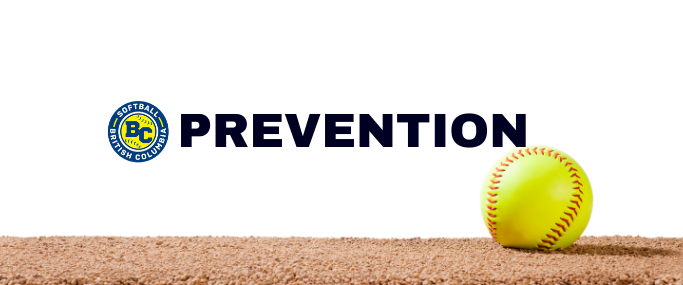 RESPONSIBLE COACHING MOVEMENT
The Responsible Coaching Movement (RCM) is a call to action for sport organizations, parents, and coaches to enact responsible coaching across Canada - on and off the field. To reduce risk in sport, the Responsible Coaching Movement focuses on three key areas: Rule of Two, Background Screening, and Ethics & Respect Training.
By signing the pledge of the Responsible Coaching Movement (RCM), Softball Canada is helping to ensure the protection of both Athletes and Coaches.
---
RULE OF TWO
Softball BC encourages all participants to adhere to the 'Rule of Two' at all Softball Canada events, activities, and meetings.
For interactions where there is a power imbalance between two people (I.e. Coach/Athlete, Board Member/Staff, Trainer/Athlete, Chair/Committee Member, etc.), Softball Canada strongly recommends open, observable, and justifiable interactions in an effort to foster safety, enhance protection and help reduce vulnerability for all.
What is an 'open' environment?
An open environment is an environment that is not closed or concealed from others.
Interactions should not take place behind closed doors or in secluded locations.
Others should be aware the interaction is taking place.
What is an 'observable' environment?
An observable environment is a space where others can see or take note of the interaction.
---
RISK MANAGEMENT
Softball BC makes every effort to ensure that the safety of members remains a high priority by continuing to support a variety of programs that are developed both strategically and ethically . The Association's Vision, Mission and Values, as outlined in Softball BC Strategic Plan, form the basis of our programming.
SCREENING
Individuals who coach, volunteer, officiate, deliver development programs, or who accompany a team to an event/ competition, who are paid staff, or otherwise engage with vulnerable individuals and who fall under Softball BC's authority shall be screened according to the organizations Screening Policy. Softball BC expects that local associations will screen such individuals according to their own applicable policies.
To access the full version of Softball BC's Screening Policy, click here.
To access more information about general screening practices/ requirements, choose from the following resources:
---
ONLINE TRAINING
SAFE SPORT TRAINING
Creating a culture where everyone can thrive is a shared responsibility. Safe, inclusive sport environments help make sport rewarding and enriching for all. Safe Sport Training gives you the knowledge and skills to create those environments by recognizing, addressing and preventing maltreatment in sport.
Together, we can make sport safe for everyone. To access the Safe Sport Training, click here.
---
RESPECT IN SPORT
Softball BC, in partnership with Softball Canada and the Respect Group, is proud to support Respect in Sport for Activity Leaders, for Parents and in The Workplace. The Respect in Sport training programs educate youth leaders, coaches, officials, employees and participants to recognize, understand and respond to issues of bullying, abuse, harassment and discrimination (BAHD).
To access these training programs and become certificated through Softball Canada's database, click here.
---
COMMIT TO KIDS
Through the Canadian Centre for Child Protection (CCCP), the Commit to Kids (C2K) online Coaches module empowers Coaches with practical information to help them enhance child and youth safety in sport. It highlights the importance of understanding boundaries, sexual misconduct and reporting inappropriate behaviour.
Click here to access the C2K for Coaches online training.
---
FOUNDATIONS OF COACHING SOFTBALL
Foundations of Coaching Softball is Softball Canada's first online National Coaching Certification Program (NCCP) module developed to introduce new and experienced coaches to the foundational skills of coaching and softball-specific coaching concepts, such as: developing a coaching philosophy, Long-Term Player Development, working with players and their parents, the coaching process, and player safety.
To register for Softball Canada's Foundations of Coaching Softball eLearning module, click here.
---
MAKING HEAD WAY
The Making Head Way training is designed to help you gain the knowledge and skills required to ensure the safety of your athletes, these concussion focused NCCP modules are an excellent resource and will review
What to do to prevent concussions
How to recognize the signs and symptoms of a concussion
What to do when you suspect an athlete has a concussion
How to ensure athletes return to play safely
Click here to learn more about the Making Head Way training module!